Why don't you have your own taco truck?
I get asked often, "Why don't you have your own truck? Do you do catering? Where is your truck now?" Almost as soon as people finish their questions, I think back to my childhood when my parents would literally stay up from dawn to dusk working their butts off just to earn a living and put food on the table. Yes, our customers loved us. But the work hours were grueling. Anybody in the restaurant or food service business will tell you that they work a lot of hours. I soon got to a point where I didn't just dislike selling tacos, I hated it!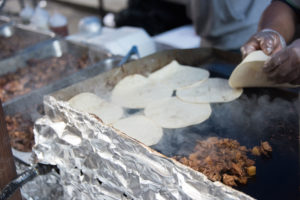 Now, don't give me wrong. Hard work was never an issue. It was just hard seeing my parents put in so many hours and still struggle to have a traditional, balanced family life. I dreamed of a different lifestyle. I visualized a life where I didn't have to work what seemed to be 18 to 20 hours every day. I knew back then that the work my parents were putting in was for us and our futures.
Whenever someone asks me why I don't have my spot, I think about a time in the early evening on a hot summer day. I looked at the mini television we had in the back of the truck and the 6 o'clock news was on. The temperature was 90 degrees outside which meant it was 100 degrees inside the taco truck. I just felt a sinking feeling. A feeling that told me I was not in the right place. I remember thinking about the fact that I got there at 10 AM and that it was currently 6 PM and I knew that I wouldn't leave until 10 to 10:30 PM when we closed down. I remember my siblings and I would do this for six days a week and have one day off. Perhaps my siblings felt the same way, but I knew that I did not want to keep doing this. It was just too much. At that point, I never realized that the life I enjoy today is directly connected to the way I grew up. But it is connected.
I often volunteer myself to help cook when friends are having a special event at their house. I enjoy the sound of the grill, the sound of a cutting knife slicing the cilantro and onions, and the scent of garlic on my fingers as I chop the cloves for the guacamole. And in many of those occasions, I can be by the grill or the kitchen for a lot of hours. But that is very different than running your own food truck.
I know I'm blessed to have grown up in a taco truck. I'm lucky to have been able to learn what it takes to make great tacos. But to do it for a living? No, there's always that distinction for me between the preparation and the consumption.
I asked my parents recently how they felt about the long hours and why they did it. Wasn't it too much? Did they regret it? They said no, they didn't think it was hard work at all. It was just selling the food they loved to provide for the people they loved.
"Tacos just don't happen, tacos are made!"